Experience Guildford Bus Station Advertising Campaign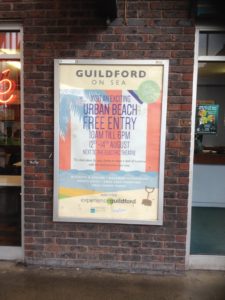 Experience Guildford wanted to book a last minute campaign to promote "The Urban Beach" during the school holidays.
Due to late notice, there were not a lot of poster spaces available in the Guildford area but we did manage to find space and this picture is from a site taken at Guildford Bus Station for a two week campaign leading up to the weekend of the event.
These is a 4 sheet sized poster (60 inch x 40 inch). There are not a lot this size available nationally but they do offer great value for money.
If you are interested in Bus stop, bus station or any form of bus advertising, please call the team on 01256 767837.