Don't Take Your Business into a Parallel Universe
Don't take your business into a parallel universe – no one will see you…
You have decided you want to promote your business on local bus shelters as it might be good for directional signage to lead prospective clients to your business and you can cherry pick a site that you think would be good for you.
How much do you know about the poster site you have selected?
Please do not buy any poster site from a list. If you don't know the specific site, then you should see this as a picture to make sure you book the site you want and not one facing in the opposite direction or maybe even parallel to the road when you don't see it till you are right on top of it.
If you have never used outdoor advertising for your business, a list that is sent to you of bus shelters in your area would mean nothing to you. You might see a bus shelter site on the list that is on the road you want and it looks to be in the right location for you but please don't be tempted without actually seeing it. You will get bus shelter poster that will be nearside to the road and head on. You will get posters on the opposite side to these posters so effectively they will be offside head on but facing the opposite direction and then you will get some parallel to the road. If the bus shelter only has parallel posters on it, then it may not be the best for you unless of course it is in an exceptionally busy area and visible to large numbers of people. With a nearside head on poster, you know it is going to be visible to all drivers and possibly pedestrians heading down the same road. With an offside head on poster in most cases it will work fine, but be careful to make sure it faces the right direction for you. If the bus shelter is the opposite side of a dual carriageway, then the offside head on poster may not work at all as its not clearly visible.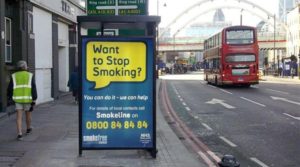 To make sure you get the right bus shelter for your business, you need to speak to a specialist in the industry who understands how it works and to help you maximise the potential from the advertising. You need a company who cares, a company who understands the industry and how it works and how you can ensure your budget is not wasted.


For more advice, guidance and a team dedicated to getting the best from your advertising budget, give us a call now on 01256 767837 or by completing the form on our "Contact Us" page. We look forward to hearing from you.